Radion schedule described in detail

Explaining the Radion schedule isn't that simple, unless there's some trick I'm not aware of. I've had quite a few people ask me for the schedule I use over the 60g Anemone Cube. Since December 2015, I've had a Radion Xr30 Gen2 over that tank. If you want to download that file, here it is: 
https://www.dropbox.com/s/5vzr5qpkx9pt18b/Melev-SavedRadionSchedule2018-12-16.etg?dl=0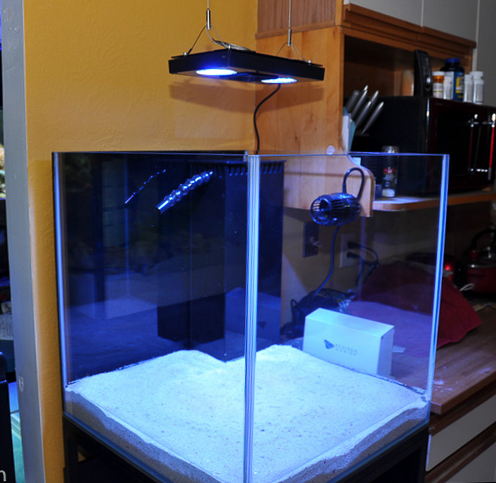 My light is set 8" from the surface of the water, hanging from ceiling with the adjustable hanging kit.
You can start with a brand new schedule. In EcoSmart Live, find your Radion fixture.  Then on the right side of the screen, click on Schedule Options, and then "Load from template".  I like Radiant Color - my favorite. Set the starting time, ending time and intensity, and click Set.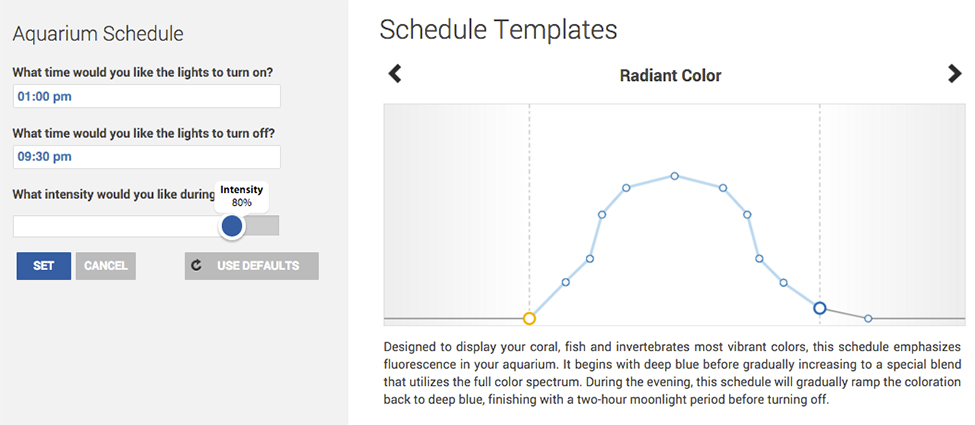 What you can see on the left is the lights are set to a maximum of 80% intensity.  The light cycle begins at 1:00pm and runs to 9:30pm for a total of 8.5 hours per day. I like running lunar mode that matches the phases of our moon on a daily basis.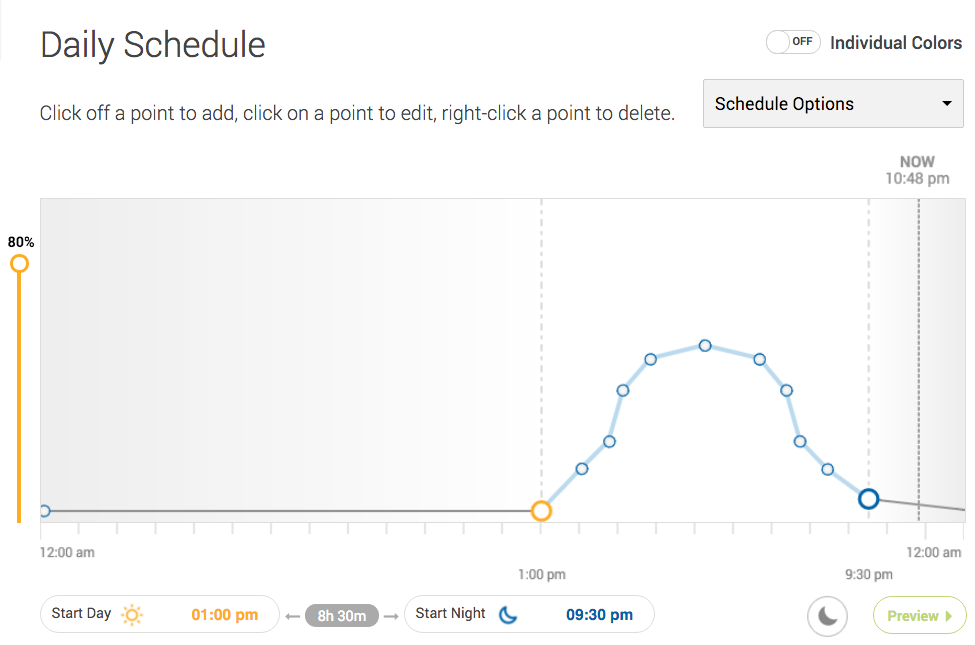 Here's another showing the various color channels visible in the graph.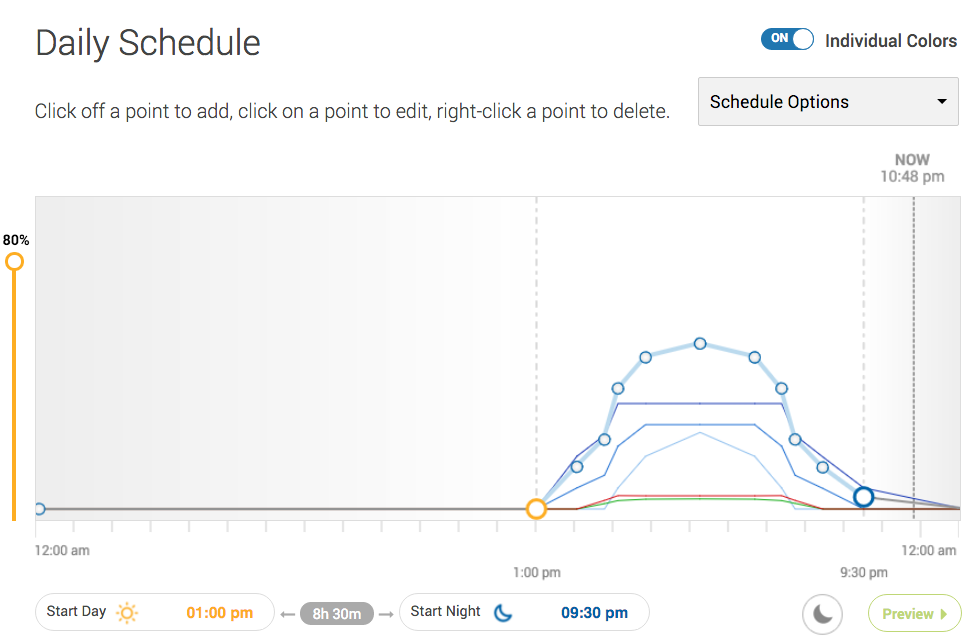 Here are the various setpoints, as schedules.  See the blue circles in the images above? You can drag these left or right to the exact time you want. Double click a blue circle and you'll see this menu on the left side of the screen. I don't use Cloud or Storm options.
1:00 p.m.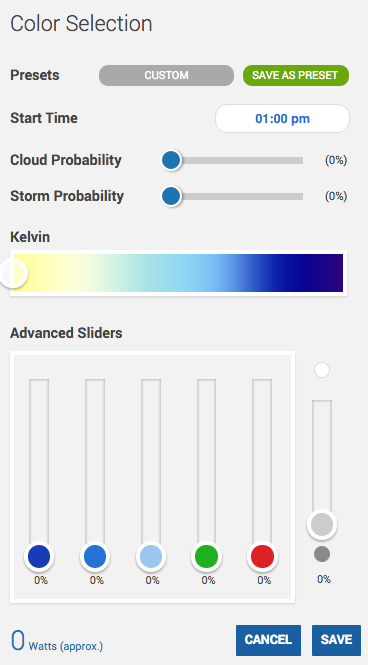 As you can see, everything is off. This is the starting point of the new day. The aquarium has been lit with ambient light shining into the room, but the Radion doesn't come on until 1:00 pm in the afternoon.
2:03 p.m.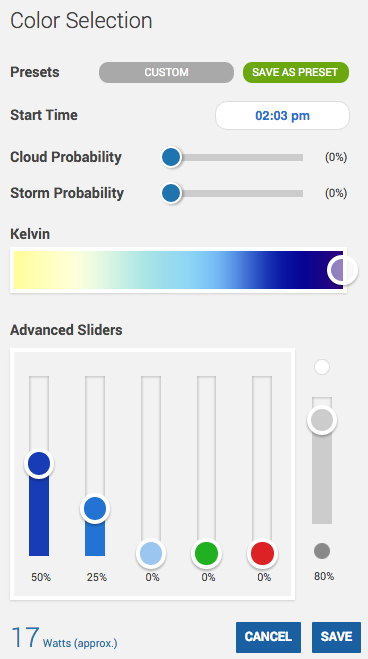 No whites are used yet.  It's a soft blue hue.
2:46 p.m.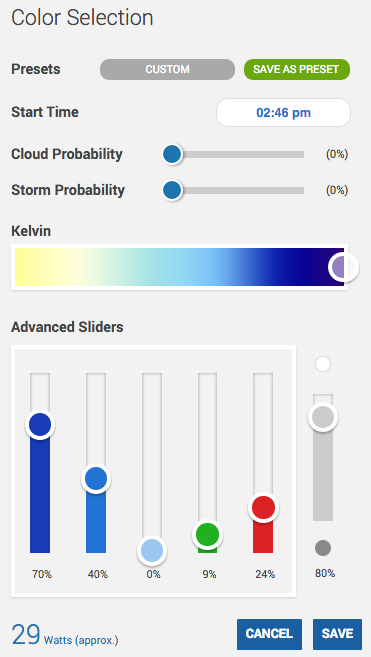 Note the percentages, how they are gradually changing with the Radiant schedule from screenshot to screenshot.
3:07 p.m.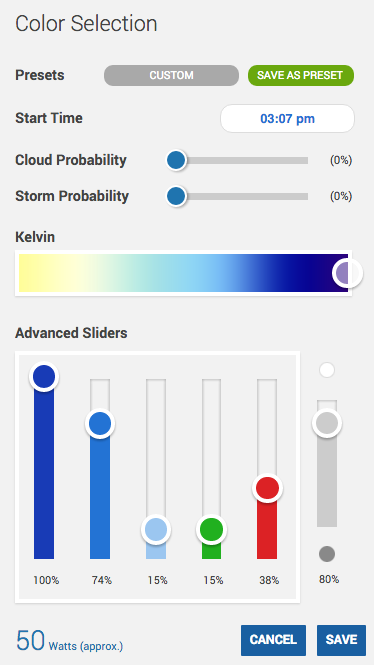 Finally the whites are on, but only 15% intensity. Some green has been added, as has more red.
5:15 p.m.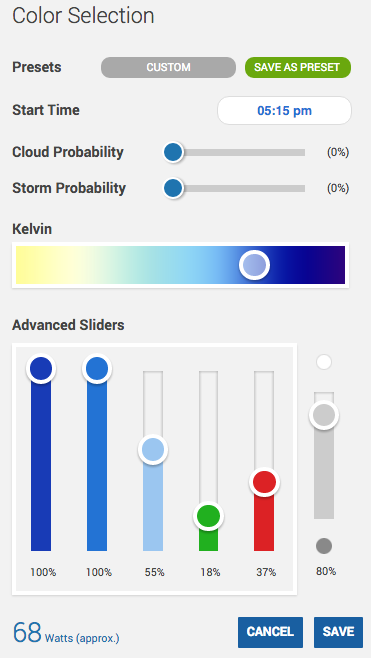 Both blue channels are at 100%, whites have ramped up to 55%, some green and a dose of red, all maxed out at 80% intensity.  This is the "high noon" moment of the day when the sun is shining down at its highest level, per the programming I selected.
6:40 p.m.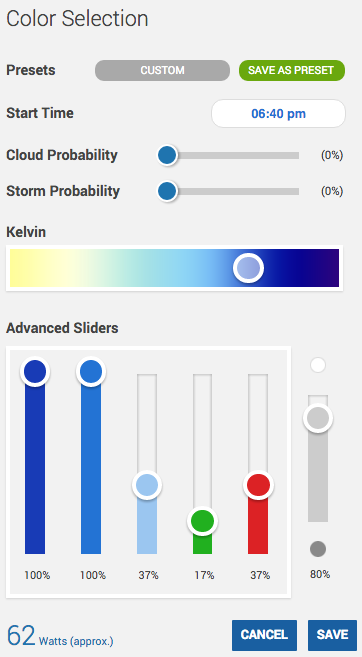 Whites have already tapered back down to 37% by 6:40 pm. 
7:22 p.m.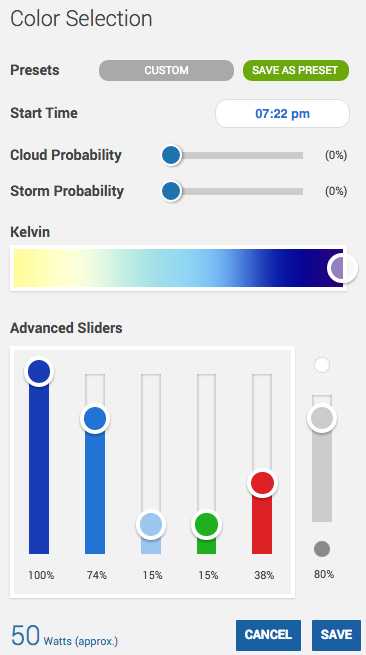 The whites have dropped to 15% and the blue channel has begun to drop as well.
8:26 p.m.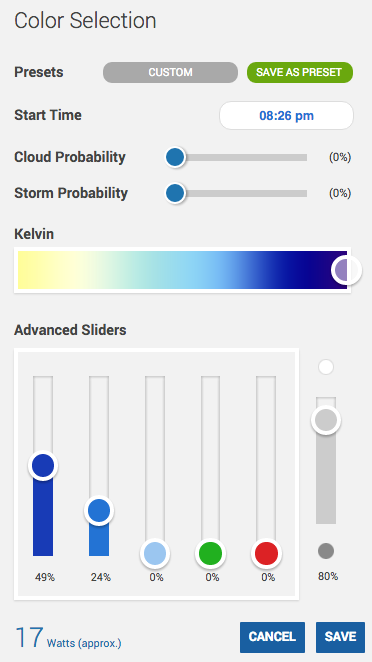 The blue channels are still on, but half of what they were.
9:30 p.m.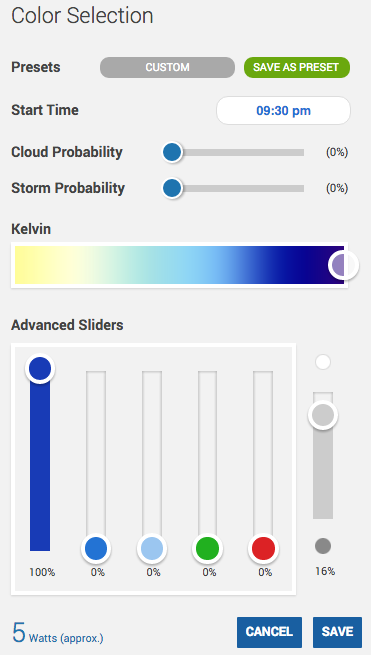 Finally, the royal blue LED channel provides a nice glow for a while, as this will taper off based on the lunar cycle. Some nights the royal blues turn off quickly, and other nights the royal blues may be on nearly two hours longer, matching the full moon outside. The livestock glows under that spectrum, and it's totally worth it.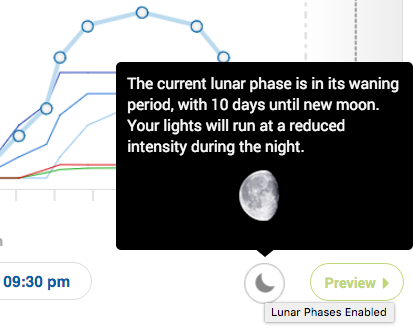 I hope this was helpful. If you have questions, send me a message via Contact Us. If needed, I'll update this page with additional information. I'm going to be changing fixtures to the Xr15 Gen3 Pro, but I don't think my programming will change much.