The Angled Tank Turns Two!

My tank turns two years old today! It is in the tiny entry way/foyer of my home. It holds about 20g of water, with an angled front panel to look down upon many of the corals. Here's a picture of it from June 2008 when I installed the light fixture finally.
Current inhabitants
Clean up crew:
3 Emerald Crabs
1 Tigertail Cucumber
2 Tongan Nassarius snails
5 Astreas
1 Fighting Conch
Fish
2 Black Onyx perculas (that look like normal Occellaris
1 Mystery Wrasse
Corals
2 Favias
2 Hammers
6 zoanthid colonies
3 Acans
2 Gorgonians
27 Mini Carpet Anemones
4 Ricordea
Fungia blob
Xenia-like coral
Unknown Daisy Polyp - "princess polyps" perhaps?
Porites
Acropora sp - Pink Lemonade
Acropora sp - Red Planet
Acropora sp - Purple Monster
2 Acropora sp unknown
2 A. millepora
M. capricornis
Montipora unknown
Montipora sp - Elkhorn
Inverts
Rose Bubble Tip Anemone
Xmas Tree worms
Lighting
150w DE 10,000K Coralife
2 pm to 8 pm daily
Feeding
Pellet food shaken in each afternoon
Maintenance
Water changes are every two months (when I work on the 280g)
Vodka dosed daily (to the 280g system, which this tank is tied into)
Panels scraped about once a month to reduce coralline spots
Vortech pump cleaned about once every six weeks
The angled panel stays algae free and rarely needs to be cleaned at all.
Here are a few images of the tank's transition over the past couple of years.
July 19, 2007
March 17, 2008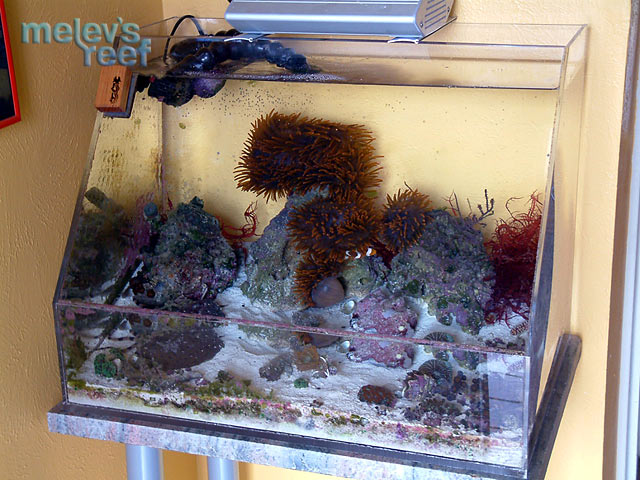 June 4, 2008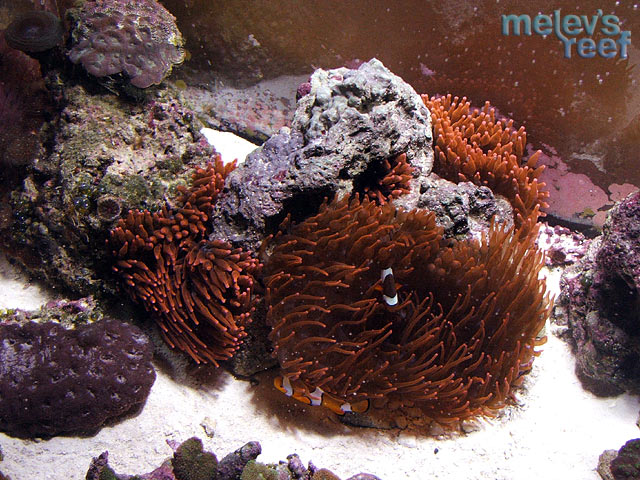 August 29, 2008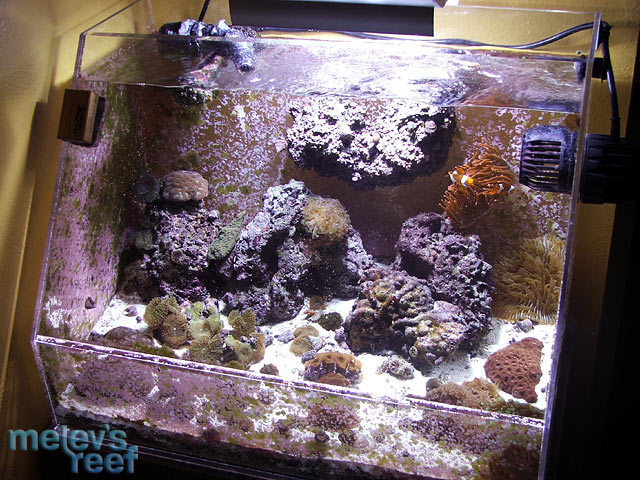 January 31, 2009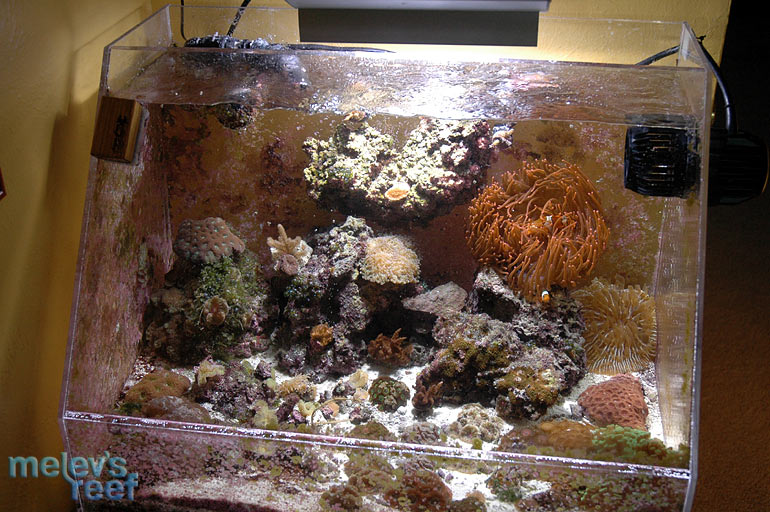 May 4, 2009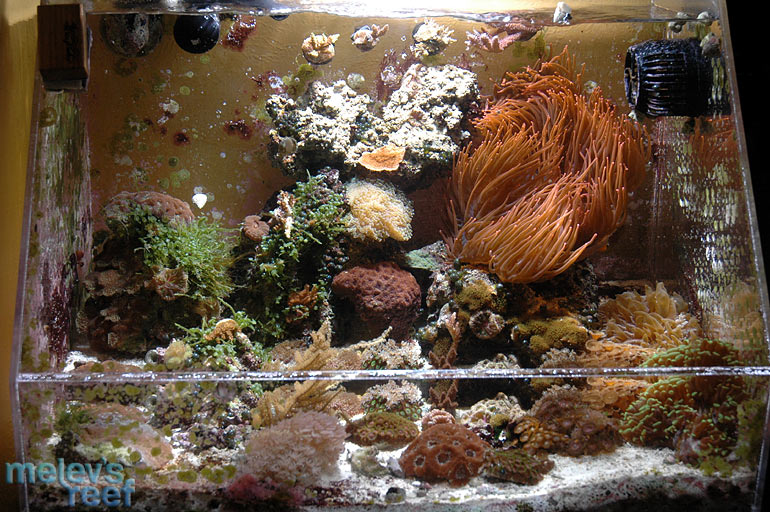 May 31, 2009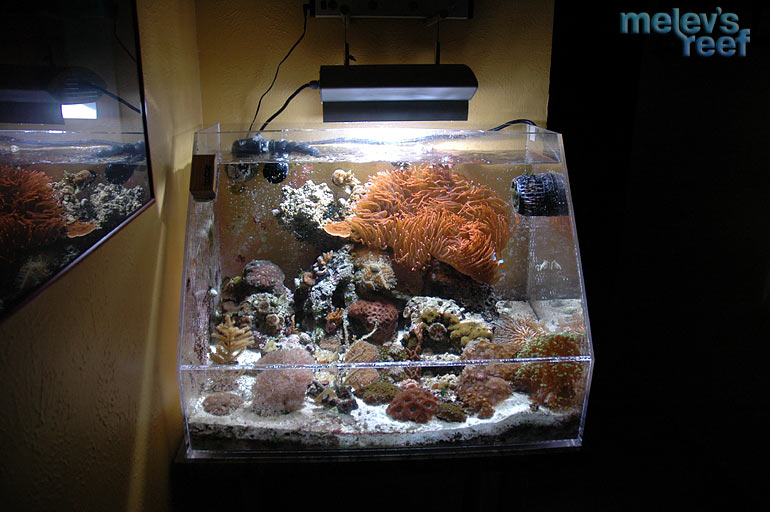 July 19, 2009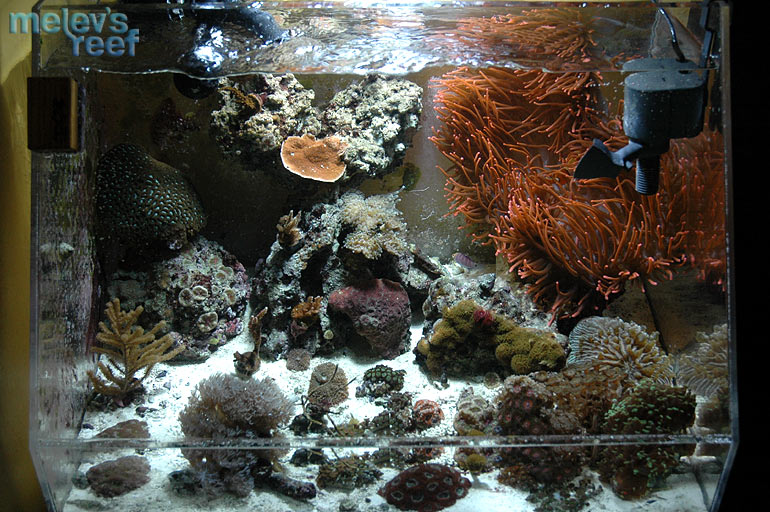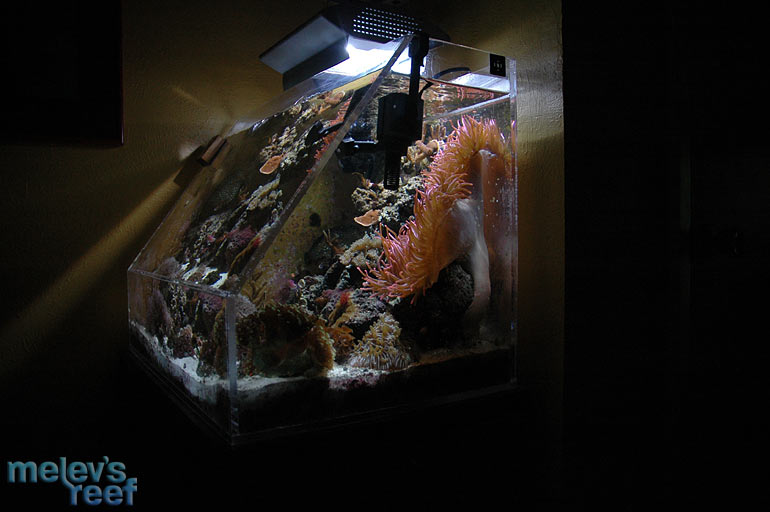 The MP20's power supply went out, and for now I'm using a MaxiJet to provide flow in the tank. This has changed how the RBTA expands in the tank.